CIRD Downtown Visioning Workshop results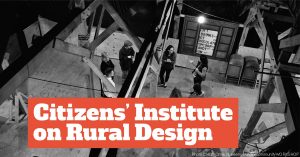 The Citizens' Institute on Rural Design (CIRD) recently worked with local stakeholders in Millinocket, Maine and the surrounding region, to create a visual rendering – or "LookBook" – of Millinocket's downtown corridor that store owners, private individuals, non-profits, and the town government can use. The workshop supported the creation of conceptual design renderings of the downtown corridor based on community ideas, wayfinding research, walkability, and historical precedent. Visioning for the overall downtown area produced a cohesive design concept that future investment in the area may embody.
The project invited community members of all ages and inhabitants of the downtown corridor and surrounding community to provide input into the design and planning of the area to attract visitors and future residents during community sessions. The project was in collaboration with the Town of Millinocket, Northern Forest Center, Our Katahdin, the Maine Downtown Center, and others.
This exciting 2-day workshop gathered great results! If you missed it, take a look at the agenda and check out the videos below-
CIRD presentation to Millinocket Town Council