A Special Opportunity
We are looking for a visionary TOWN MANAGER to lead a frontier town comeback
WHY MILLINOCKET?
Millinocket has something special for you. Big recreation, big woods, big trails, big adventure, big opportunity, big community, big history – all here, in our small frontier town on the edge of Maine's vast forest. Millinocket is investment-ready, development-ready, and open for business – and, it happens to be a spectacular place to work, play and visit. Millinocket is the gateway to Mount Katahdin, voted World's Best Hike by National Geographic and home to the northern terminus of the Appalachian Trail. Millinocket sits astride the famed Golden Road, the North Maine Woods, the West Branch of the Penobscot River, Baxter State Park, and a vast network of lakes, trails systems, day-hikes, conservation land, and 4-season recreational opportunities.
Millinocket is located in Penobscot County and is within an hour of Maine's 3rd largest City of Bangor. It is a wonderful community in which to live, work, and play, and a great region appealing to anyone who loves the great outdoors.
VITAL STATS: Millinocket has a population of 4,100, with 44 full-time municipal staff and 40 part-time staff. Its annual budget, excluding schools, is $6.9 million, and it has a separate Enterprise Wastewater Budget of $2.5 million. It operates under a Town charter with a 7-member Town Council/Town Manager form of government. Councilors are elected for 3-year staggered terms.
THE POSITION
LEAD THE TOWN INTO THE FUTURE AS MILLINOCKET'S TOWN MANAGER The Town Council is seeking an individual with strong experience in economic, incentivized community redevelopment activities, budget, investment, and financial management skills; experience in operations analysis, personnel management and labor relations; and experience in public works and EMS services. The ideal candidate should have the ability to work with all levels of government, the business community, citizens groups, and still relate with individuals. Candidates should possess excellent written and oral communication skills, progressively responsible supervisory and management experience, and demonstrated leadership ability.
EDUCATION & EXPERIENCE Municipal management experience and Bachelor's degree in related field, with Masters degree a plus; 10+ years senior management experience (in municipal government a plus); OR any equivalent combination of education and experience that demonstrates possession of the required knowledge, skills and abilities. Candidates with comparable work experience and education are encouraged to apply. ICMA certification preferred.
COMPENSATION & BENEFITS Compensation for the position will be based on qualifications, and range from $90,000-$120,000. Employees are provided vacation, sick and bereavement leave in addition to 11 major holidays.
APPLICATION PROCESS Applicants must submit a cover letter, resume, and references to Eaton Peabody Consulting Group ATTN: Don Gerrish at dgerrish@eatonpeabody.com.
APPLICATION DEADLINE: July 20th, 2021
For more information on this position feel free to contact: Steve Golieb, Millinocket Council Chairman, s.golieb@millinocket.org. Or visit Millinocket's website at www.millinocket.org.
Millinocket stands at a unique crossroads. At the end of the Golden Road, it has unparalleled access to millions of acres of sustainably managed forests and the private road network that provides the most efficient transportation for timber in the country. Atop the eastern seaboard, it has access to the greatest collection of wealth and consumers in the history of the world. This combination of access to timberland and access to markets is unmatched anywhere else on the globe.
Eric Kingsley, Innovative Natural Resources Solutions
THE OPPORTUNITY
The next 5-10 years in Millinocket are pivotal. The town has undergone major changes in the previous five years, and is poised for revitalization and growth.
Our Katahdin, a local non-profit economic development group, gained ownership of the 1,400 acre industrial site at 1 Katahdin Avenue and has secured a $300 million investment in a new data center.
The Northern Forest Center, a regional non-profit, purchased six dilapidated houses and apartment buildings, invested over $1 million dollars into their renovation and now offers them at market rate rentals. They have also commissioned a town-wide Wayfinding sign system.
The Katahdin Collaborative invested 18 months and combined community input with consultant expertise to create the regional Katahdin Gazetteer: A Roadmap to the Future to act as a vision and action plan for community and economic development, job creation and nurturing vibrant villages.
Mobilize Katahdin, a coalition of dozens of community organizations, has created a grassroots network to respond to food insecurity, heating assistance, and transportation in response to the coronavirus pandemic.
The Millinocket Memorial Library, under the direction of a new director, raised and invested close to $2 million into the renovation of the library to create a "Library of the Future."
Millinocket Regional Hospital is expanding services through telemedicine and investing in expanding oncology services.
The Millinocket Municipal Airport, a town-owned, public-use airport that has both avgas and jet fuel, as well as runways capable of handling jets has developed a 20-Year Airport Master Plan and recently hosted the Aircraft Owners and Pilots Association (AOPA). It is also set to be featured in an upcoming edition of a national magazine.
A new residential recovery center is operational in town, and another center is in the process of opening to help residents with substance use disorders.
Millinocket has also been designated as a Qualified Opportunity Zone, which incentivizes investment within the town. The Global Resilience Institute at Northeastern University recently completed a study on how Millinocket can take advantage of the designation.
The median home price in 2015 was $42,000. In 2019, the median home price increased to $68,000. Over 2020, the median listing price increased 108%.
GOALS
MILLINOCKET TOWN COUNCILORS 2021 GOALS
MILL RATE / Taxes
Lower Mill-Rate by increasing tax base
Broadband Development
Increased fiber broadband infrastructure throughout the downtown and to all residential neighborhoods. Leverage existing infrastructure and available state and federal dollars.
Economic Development
Examine and develop tax incentives for businesses. Work with Our Katahdin on mill site tenant location. Support and expand four season outdoor recreation infrastructure and business opportunities. Complete a building inventory.
Infrastructural Needs
Conduct a needs assessment to improve Roads, Sewer, Municipal Building, Fire Station, EMS, municipal airport, wayfinding signage
Regionalization
Strengthen regional relations. Explore partnership opportunities as they present themselves.
Community Development
Increase collaboration with community partners around – age friendly measures, transportation needs, creating outdoor space, health services, food services, recovery services, engaging Wabanaki neighbors. Work to attract younger residents, improving affordable housing, and sustainability of town services.
DOWNTOWN REVITALIZATION The town of Millinocket recently was one of three communities nationally to participate in the Citizens' Institute on Rural Design to re-imagine the downtown experience.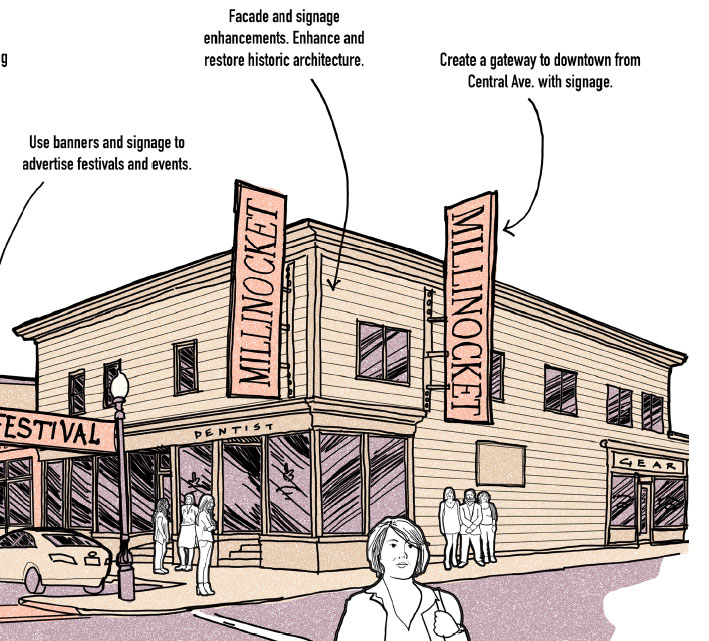 Rendering of new signage and storefront windows for a commercial building on the central intersection in downtown Millinocket. (CIRD 2020).
The town has a clear vision of combining the history and sense of place of Millinocket with a very forward thinking use of the working forests and outdoor recreation to create a new design and look for downtown to create a vibrant village.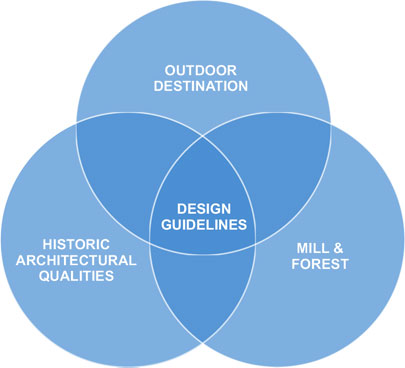 COMMUNITY
Millinocket is a great community to raise a family, start a new business, or retire. The community benefits from resources and services available at the Millinocket Memorial Library – both social time for younger children and accessing the symmetrical 1G/1G fiber broadband connection. Thrive Penobscot is a robust coalition that helps residents age in place. The Age Friendly committee at the Town works closely with Thrive Penobscot and recently was awarded the age-friendly community designation. Residents in town and throughout the region are well-served by the independent Millinocket Regional Hospital and by Katahdin Valley Health Center.
There are many, many collaborations happening around town between businesses, municipal leaders, nonprofit organizations and institutions, working together to create economic opportunities and create a vibrant community that supports people of all ages in Millinocket.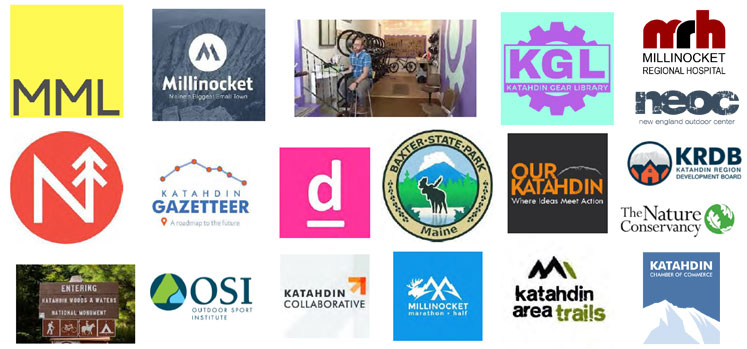 ADVENTURE
Millinocket is on the frontier of hundreds of thousands of acres of conserved land, and organizations and businesses are building front-country experiences to provide wild thrills and quiet spots for watching the sunset. There are endless outdoor adventure opportunities that make Millinocket a fantastic place to work, play and live.
Things to do:
Get wet! Go rafting down the world class West Branch of the Penobscot River, over rapids from class I to class 5, or swimming from one of several beaches around the region, paddling on the rivers or lakes, or fish the day away
Drive around the newly designated Katahdin Woods & Waters National Scenic Byway…see the varied small towns that make up our region, each with its own charm and identity, or find a trail head and embark on an afternoon adventure.
Take a wildlife tour for a chance to see a moose, an eagle, a bobcat, a bear, or a variety of birds.
Take a sightseeing tour by plane…fly over Katahdin and the North Maine Woods to see the region from a new angle.
Get some history: check out the Patten Lumberman's Museum or the Millinocket Historical Society.
Bike around the region, or on some of the newly created bike trails–and take the time to view what's around you.
Come to one of our celebrations…Winterfest, Fiddles & Fiddleheads, July 4th, Patten Pioneer Days, Sherman Old Home Days, Riverfest in Medway, or Trails End Festival in Millinocket.
Hit the trails!!! Go ATVing in the spring, summer and fall, or snowmobiling, snowshoeing, cross country skiing or dog sledding in winter.
Drive around the Katahdin Woods & Waters National Monument–look for wildlife, scenery, hiking trails, paddling routes, and wilderness.
Camp in Baxter State Park, climb Katahdin (plan ahead), or one of the many other hikes in the park, such as South Branch Pond, up North or South Turner, or to see Big & Little Niagara. Grab an adventurers pack for the kids and go exploring.
From cross country skiing, to single track mountain biking, to hiking, to kayaking – Millinocket is one of the premier four-season outdoor adventure destinations in the Northeast.