MML Centennial Renovation to Begin in Spring 2019
Millinocket Memorial Library Centennial Renovation Capital Campaign
PPH Bill Nemitz- Town of Millinocket reinvents itself-and its Memorial Library
MML Future Library Project Brochure
The Library Centennial Renovation is a bold and visionary $1.25 million building renovation to revamp a mid-20th century building into a flexible, future-proof facility that will serve a wide variety of functions for our community.
This project began in 2017 when we were awarded a major grant from the Next Generation Foundation for the "Future Library Project", a project where we re-imagined the future of our library and our region. As we made plans for a new building, we began working with new partners – foundations, businesses, and individuals – and we have been humbled by the support that has been shown so far. Construction of the new building will begin Spring 2019, with expected completion at the end of 2019. As we celebrate our centennial year, this building renovation will transform the Millinocket Memorial Library into a state-of-the-art regional center of knowledge and discovery. Your donation to the campaign is an investment in the future of our region and our children. Please make yours today! To donate online or to learn more about this project, please visit MML's Website.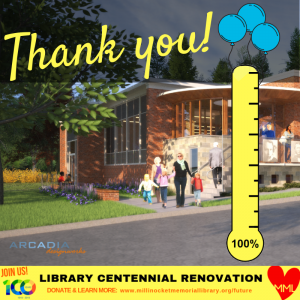 You can also support the campaign by:
Telling your friends, family, and neighbors about the project
Attending an Open House Info Session every Wednesday at 4:00pm at the Library
Exploring our website to learn more about our renovation plans, how to donate or make a pledge, and FAQs
Stopping by the library during our open hours
Becoming a member of the Friends of the Millinocket Memorial Library
Volunteering at the Library
The Millinocket Memorial Library will move to the former Pelletier restaurant during construction. For more information and to view a FAQ sheet, visit their website.