Please Welcome Chief Worster to MPD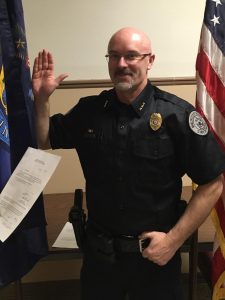 The Town of Millinocket and the Town of Millinocket's Police Department are pleased to announce we have hired a new Police Chief. Please help us in welcoming Chief Craig Worster to the Magic City!
Chief Worster has already hit the ground running and loves it here. He grew up in Winterport, Maine. After high school (Hampden Academy)  he spent 5 years in the Army Reserve from 1988-1993 and then served in the United States Coast Guard from 1993-1996. Chief Worster graduated the Police Academy in Connecticut in 2000. He worked for a police department in Connecticut and left that department as a Lieutenant. Chief Worster said he really likes the outdoors and he especially loves the north woods of Maine. His love of the outdoors is a big reason he applied for the Chief position.  We wish you the best of luck Chief Worster!