Public Works
Millinocket Public Works Department
Director: Ralph T. Soucier
publicworks@millinocket.org
Office: (207)723-7030
Emergency Dispatch: 1-800-432-7911 or 911
20 Cedar Street Millinocket, Maine 04462
Hours of Operation are Monday – Friday 6:30 a.m.-3p.m.
The Department has 5 operators, 1 Lead Man, 1 Mechanic, and Director.
In addition to maintaining public roads and public infrastructure, public works has three additional areas of responsibility: Cemetery, Airport, & Transfer Station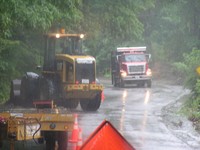 Millinocket has 41 miles of road to maintain which consists of Snow Plowing the roads along with two Schools, Airport, Parking areas, Transfer Station, and snow removal at night in the downtown areas. The town is broken into 4 sections with 4 plow trucks dedicated to each area. The Main Routes are plowed with a wheeler. The Grader can be used if necessary on large storms to help clear snow or cut ice. The trackless Sidewalk plow Machine is used to clear sidewalks in the School and Downtown areas.
Sewer repairs – Storm drain basin repairs -Mowing parks and road side -Line Painting -Tree trimming – Hot top repairs, and many other functions throughout the year.
PLEASE NOTE THAT THE TOWN'S WASTEWATER ABATEMENT PROGRAM HAS BEEN ELIMINATED: Abatement Program Elimination.
PERMITS AND DOCUMENTS
Official Business Directional Sign Information on how to obtain a permit to install a MDOT Sign
MDOT Map Viewer See current MDOT Projects-Great new tool.
Maine Dept of Transportation MDOT Information Web Site
Request_for_Signs
Town of Millinocket Road Open Permit: Street_Opening_Permit(1) Must fill out permit before excavating any DIG.
Town of Millinocket Yard Waste Policy:
Please be aware of the Town's Parking Ordinance  Chapter §115-19 which starts certain months on November 1st through April 1st from 11pm-7am. any street both sides. Any vehicle left in the right-a-way may be towed at the owners expense. This ordinance keeps the public's vehicles away from damages from snow removal, and also helps Public Works to keep the snow pushed back for safety and drainage reasons.

Thanks for every ones support. This makes a big difference for us to do our jobs effectively!

Ralph Soucier, Public Works Director