Public Notices
FY20 BUDGET HEARINGS SCHEDULE
Tuesday, April 16, 2019, Council Chambers beginning at 4:30 p.m.
Friday, April 19, Council Chambers beginning at 3:00 p.m.
Public Health and Welfare
Monday, April 22, Council Chambers beginning at 4:30 p.m.
Wednesday, April 24, Council Chambers beginning at 3:00 p.m.
Public Works Administration
Public Works Roads/Construction
Thursday, April 25, Council Chambers beginning at 4:30 p.m.
Immediately Following The Council Meeting
Monday, April 29, beginning at 4:30 p.m.
Deliberations If Necessary
---
Maine Center for Disease Control and Prevention is investigating the circumstances surrounding a rabid bat in the general area outside the Shaw House in Bangor on the weekend of March 16 and 17. The bat tested positive for rabies at Maine's Health and Environmental Testing Laboratory (HETL). Maine CDC is working closely with the community to identify all individuals who may have handled the bat, particularly those that handled it with bare hands, and make recommendations for rabies post-exposure vaccination. Rabies is fatal, so appropriate vaccination and prophylaxis for individuals who handled the bat with bare hands is
essential. The intent of this HAN is to remind Mainers that bats are wild animals and should not be handled without proper protection, encourage rabies post-exposure vaccination for
individuals potentially exposed to this bat, and alert others to the presence of a rabid bat in the community.  To read more about this from the CDC please use this link. 2019PHADV005RabiesPositiveBat
---
TOWN OF MILLINOCKET
PUBLIC HEARING
THE MILLINOCKET TOWN COUNCIL WILL HOLD A PUBLIC HEARING ON THURSDAY, JANUARY 24, 2019 at 4:30 PM IN THE MILLINOCKET MUNICIPAL BUILDING IN THE COUNCIL CHAMBERS FOR THE PURPOSE OF DISCUSSION ON THE COMPREHENSIVE PLAN.
Dated at Millinocket, ME JANUARY 8, 2019
DIANA M. LAKEMAN
TOWN CLERK
---
**NEW HOURS** THE MILLINOCKET ASSESSING OFFICE WILL BE OPEN ON THURSDAYS 7:30 AM TO 3:30 PM.
---
The Millinocket Town Council will be holding a public hearing to discuss the Katahdin Region Broadband Utility Interlocal Joint Exercise of Power Agreement during the September 27, 2018 Town Council meeting at 4:30 pm in the Town Council Chambers.
---
The Drive Show Maine will be broadcasting live from designlab at 135 Penobscot Avenue, Tuesday, August 21 from 4-6 pm! They are coming to celebrate Millinocket being voted the 2018 Town of the Year! Your passion and votes made Millinocket the Town of the Year, now it's time to celebrate your home town! We invite anyone who wants to stop by and share what they love about Millinocket to come take part in the show! The Magi City edged out Bucksport for the win! "The Magic City" edging out Bucksport in the final voting of this summer's competition. The Drive will also make a $100 donation to a nonprofit of the town's choice, and if you voted for Millinocket by commenting on the Facebook post, tune into the show Monday as we'll announce the individual winner!
One lucky fan of Millinocket will win a pair of movie passes to the Bangor Mall Cinemas, a $50 gift card to the Sea Dog in Bangor and a VIP Detailing from Deane's Detailing!
---
PUBLIC INFORMATIONAL MEETING NOTICE
U.S. EPA BROWNFIELDS ASSESSMENT PROGRAM
THURSDAY, AUGUST 23, 2018, 4:30 PM
MILLINOCKET TOWN HALL
The Maine Department of Environmental Protection (MEDEP) and their consultant, Ransom Consulting,
Inc., will be hosting a public informational meeting for their Brownfields Assessment Program during the
Millinocket Town Council meeting on August 23, 2018. The Town Council meeting will start at 4:30 at
the Millinocket Town Hall building, 197 Penobscot Avenue. The MEDEP was the recent recipient of a $300,000 grant from the U.S. Environmental Protection
Agency to inventory, characterize, assess, and conduct planning and community involvement activities
related to potentially contaminated Brownfields sites throughout the State, with a particular focus on the
communities of Millinocket, East Millinocket, and Lincoln. A Brownfield site is any property where the
expansion, redevelopment, or reuse of the property may be complicated by the presence, or potential
presence of, a hazardous substance, pollutant, or contaminant.
The goal of this public informational meeting is to educate interested individuals about the Brownfields
program, to answer questions from community members, and to solicit sites that could potentially benefit
from this program.
If you have questions or would like a site application form, please do not hesitate to contact Ransom
Consulting, Inc. Project Manager Erik Phenix at ephenix@ransomenv.com or 207-772-2891. Additional
information is available on MEDEP's website at www.maine.gov/dep/spills/brownfields
---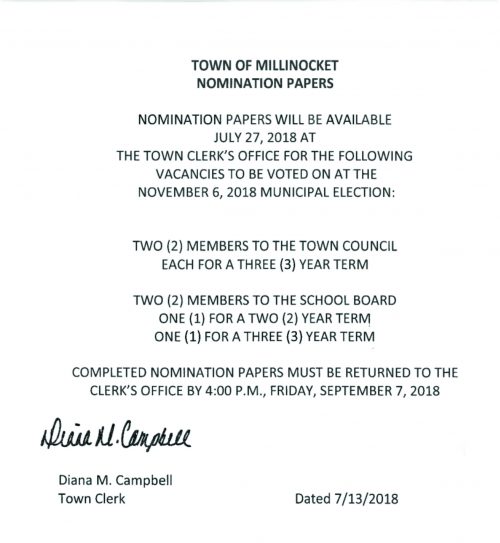 ---
Broadband Planning Meeting
Tuesday, July 31
3:30pm – 5:00pm
Katahdin Region Higher Ed Center, 1 Dirigo Dr, East Millinocket
Meeting to review draft legal documents of a potential broadband utility in the Katahdin region.
---
Public Notice
Availability of Analysis of Brownfields Cleanup Alternatives
30-Day Public Comment Period, August 1 – August 30 and
Public Meeting August 1, 2018; 6:00 – 7:30 PM at the
Millinocket Memorial Library, 5 Maine Avenue
Millinocket, ME 04462
Former Miller's Department Store
230 Penobscot Avenue
Our Katahdin received an EPA Brownfields Cleanup Grant to remediate environmental contamination identified in the building of the Former Miller's Department Store located at 230 Penobscot Avenue in Millinocket (the Site). As a requirement of the EPA Cleanup Grant, Our Katahdin is providing this notification of the availability of the Analysis of Brownfields Cleanup Alternatives (ABCA) for the cleanup planned for the 230 Penobscot Avenue property. As part of the EPA Cleanup Grant, the ABCA is available for public review and comment. The ABCA and previously prepared environmental assessment reports for the Site, can be downloaded and reviewed at Our Katahdin's website www.ourkatahdin.com/230penobscot, or reviewed in person at Our Katahdin's office located at 245 Aroostook Avenue, Millinocket, ME Monday – Friday 9 am-4 pm. This notice also provides notice that comments on the ABCA and on the proposed cleanup and remediation of the 230 Penobscot Avenue Site can be submitted in writing to TRC Environmental, Inc. 6 Ashley Drive, Scarborough, Maine 04074; Attention Charlie Springer, (207) 274-2615 or cspringer@trcsolutions.com. The public comment period for this document will begin on August 1, 2018 and end on August 30, 2018. A Public Meeting to discuss the remediation and cleanup will be held on Wednesday August 1, 2018 at the Millinocket Memorial Library, 5 Maine Avenue, Millinocket, Maine. Public comments on the ABCA and the remediation/cleanup will also be accepted at the meeting.
---
The Millinocket Town Council will be meeting to adopt the Municipal and Wastewater budget at 9:00 am, June 22, 2018 in the Council Chambers.
---
Do you have questions about Ranked- Choice Voting? Please visit the  Maine Department of the Secretary of State Bureau of Corporations, Elections & Commissions page for more information. Resources for Ranked-choice Voting (RCV)
This is a video by the Maine Secretary of State's office explaining more about Ranked-Choice Voting.
---
The Millinocket Town Council will be holding their 1st Public Hearing on the FY2019 Budget on May 24, 2018, at 4:30 pm in the Council Chambers.
---